News at the Columbia Club
May 17, 2021
An Evening with Willy T. Ribbs on Monument Circle at the Columbia Club  
Columbia Club in partnership with the Indianapolis Motor Speedway hosts an evening with Willy T. Ribbs, recognizing his first appearance at the Indianapolis Motor Speedway 30 years ago. A VIP evening reception will be held at the Columbia Club on Friday, May 28, featuring, Willy T. Ribbs (American race car driver, racing owner), Indianapolis Motor Speedway icons and other racing legends. Tickets are $150 per person, and include heavy hors d'oeuvres prepared by Columbia Club's Chef Kendra Schmitt, an open bar and valet parking. Tickets can be purchased at columbiaclubevents.com with a portion of the proceeds benefiting the All Clear Foundation.  
All Clear Foundation is an Official Charity of the NTTINDYCAR® SERIES and the Indianapolis Motor Speedway. Through a variety of programs, their enduring fundraising and awareness initiatives support First Responders year-round.  
Attendees will have the opportunity to view Netflix's Uppity Movie Trailer, and never before seen footage of The Willy T. Ribbs Story. The 2020 Netflix, Uppity Trailer is a documentary profiling a defiant driver who challenged racial barriers in American auto racing, becoming the first black man to race in the Indy 500.  
Ribbs' love of cars and racing began at the age of four. At age nine, Ribbs worked as a ranch hand on his grandfather's ranch. Soon after his high school graduation in 1975, his first foray into motorsports was driving Formula Ford cars in Europe. He won the Dunlop Championship in his first year of competition, then returned to the United States and raced Formula Atlantic cars. Ribbs won the pole in the Long Beach Formula Atlantic race in 1982, outpacing veteran drivers before his engine failed. In 1983, he won five races in the SCCA Trans-Am and was honored as Pro Rookie of the Year. After competing in two NASCAR Winston Cup races in 1986, financial difficulties including the lack of corporate sponsorship kept his team from finishing the season.  
In 1989, Bill and Camille Cosby stepped in and funded the Raynor-Cosby Motorsports team with Ribbs as the star driver. Ribbs won two top-ten events in his 1990 Championship Auto Racing Team (CART) Indianapolis debut. In 1991, he became the first African American to qualify for the Indianapolis 500, and he qualified again in 1993.   
Friday - May 28, 2021
Purchase Tickets at columbiaclubevents.com
6:30pm – 9:00pm – Columbia Club, 121 Monument Circle, Indianapolis IN
9:45pm – Shining A Light, A Salute To Willy T. Ribbs on Monument Circle
March 15, 2021
CLICK HERE TO LISTEN TO LAST WEEK'S POLICY & LEADERSHIP FORUM DISCUSSION
November 25, 2020
Columbians rally to support Operation Find & Feed this Holiday Season
INDIANAPOLIS, IN – In a time when many charitable organizations are seeking support during a challenging year, The Leadership & Civic Engagement Committee of the Columbia Club chose to encourage Columbians to give back to the community. This committee has a mission of inspiring Columbians to be pillars of society by helping those less fortunate.
"The members and staff of the Columbia Club are committed to helping fellow citizens in need.  The pandemic has forced us into contactless community service projects for the time being, but we are most pleased to be able to help our friends at Operation Find & Feed assist the homeless in Indianapolis." Richard Hester, Co-chair of the Leadership & Civic Engagement Committee.
A former Columbia Club employee, Corey Lowery, volunteered many hours with Operation Find & Feed and shared the following, "We began with just three people and a vision to walk the streets of downtown Indianapolis once a week and make a difference. We showed love to all and offered coffee to all we met and, to those who needed food, we gave it. As the weather changed, we began offering clothing items and winter accessories. Those were the humble beginnings to the ministry that has grown into a large out-pouring of love from some twenty plus volunteers who serve more than two hundred homeless folks each week."  Lowery now serves as the Executive Director for Operation Find & Feed.
Columbians came forward and stepped up considerably donating many items for the homeless including warm clothing items, blankets, hygiene products and non-perishable food items. These resources will be allocated to displaced residents who rely on the goodwill of Indianapolis citizens through the charitable work of Operation Find & Feed which serves over 200 people on a weekly basis.
September 2, 2020
August 15, 2020
Remnant Trust - August - November 2020
Few people have ever had the opportunity to see, let alone handle manuscripts, first editions and early works containing the words that shaped the very ideas of liberty, dignity and responsibility that we have inherited from the finest minds since the beginning of recorded history. Columbians, beginning in August running through the middle of November will have perhaps a once in a lifetime exposure to original sources, through the traveling Remnant Trust. The Remnant Trust is bringing a world class collection of more than 45 manuscripts, 1st and early edition works, for use in original form.
Collections of this magnitude and quality are normally found deep in the archives of prestigious institutions, under lock and key and accessible only to a privileged few. By contrast The Remnant Trust's vision has always been to provide the opportunity for people to hold, examine, read and discuss the pieces of the collection.
Read More
July 23, 2020
The Columbia Club is proud to partner with The Remnant Trust, an American organization which aims to promote issues of human dignity and liberty by collecting original copies of culturally significant rare books and lending them out to institutions to be read and handled by the public. It has hundreds of ancient and scarce books, including original versions of works by Isaac Newton, John Locke and Adam Smith, and it is unique in its encouragement of physical contact with the tomes in its valuable library. 
CLICK HERE
to view a list of the documents that will be showcased at the Columbia Club from August 4 through the middle of November.
July 7, 2020
Downtown Stakeholders Want Action 
#INDYSTAKEHOLDERSUNITED
INDIANAPOLIS, IND - Nearly 40 downtown business owners congregated on Wednesday, July 1, 2020 for a dialogue to discuss reopening strategies amidst recent mandatory shutdowns, followed by the destructive rioting the weekend of May 29.   The meeting was held at the Columbia Club and opened by General Manager, Jim Rentschler, followed by John McGoff, M.D., Club President who stated, 
"Indianapolis's next chapter is ready to be written. It is not time to sit on the sidelines, but to get back in the game. It is time to take down the plywood, reinstall the glass, polish the monuments and restore our city. The purpose of this meeting is to listen to what you and other stakeholders in this endeavor wish to accomplish and how we as a team can return the luster to this great city so that Lady Victory can look down from above perched on top of the Soldiers and Sailors Monument with a smile instead of a tear." 
Commander Phil Burton and Community Relations Officer Kim Evans, with IMPD, informed stakeholders of the trespassing law and what action can be done to remove these individuals from their properties. But that does not address the unkempt condition that is left behind, which falls on the owners of these businesses to clean up, nor does it address the perception that our city is not safe.  Mounting frustration by these business owners is evident. Where are our city leaders and what are they doing to address the issues enveloping what recently was a vibrant downtown metropolis? The city has seen an increase in the number of homeless and panhandlers harassing patrons and customers. Downtown has been shuttered for over a month and the city council and Mayor's office have been slow to take any action.
"It's good to be here, I am not a business owner downtown, I work downtown and hopefully, I am a pretty loud voice. It is interesting to hear you talk and it is interesting to hear your stories. You are all in the same camp of thought of what you are watching, what you are witnessing and what you are dealing with, but there are some tactical issues going on in the room and for your own sake they need to be addressed. I will start with what was said about the perception of Indianapolis. For the perception of it being dirty, it is not a perception, it is a fact.  For the perception of it being dangerous, it is not a perception, it is a fact. The perception of Indianapolis' City-County Members not working with business owners or caring about business owners, is not a perception, it is fact."
 Said Tony Katz, radio host, author & political commentator with WIBC, 93.1. 
"Everyone in this group has a vested interest and we can come together. Our next step is to send letters, we are going to start calling, and if we need to camp out in front of their building, we will do that. We have a very small window now to turn this thing around." 
They want to know what our City leaders are doing to understand the escalating barriers business owners are facing. John McGoff, M.D., concluded by saying,
"Stakeholders recognize changes will not happen overnight, but they want to be part of the solution."
May 1, 2020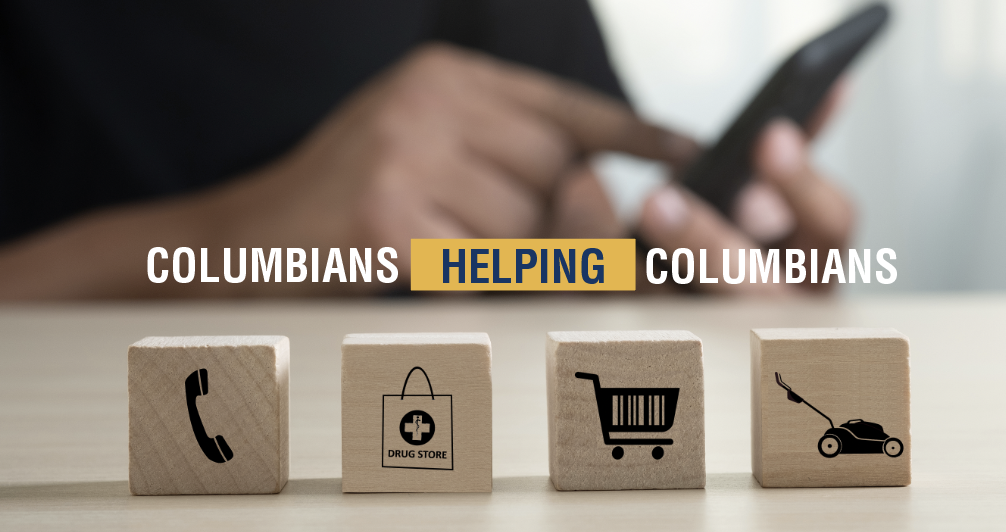 Do you need someone to pick up your groceries or do your grocery shopping? Does your lawn need mowed? Is it time to visit the pharmacy to pick up prescriptions? If you could use some extra assistance during this time, we encourage you to reach out.
Please contact us at 
info@columbia-club.org
. Your request will be forwarded to a fellow Columbian and either Mr. Morgan or a member of our Harrison Society will connect with you personally to coordinate details.
March 17, 2020
Dear Columbians,
First, thank you for your patience as we are reviewing and discussing the many parameters around the COVID-19 updates.  As many of you are aware by now, Governor Holcomb and Mayor Hogsett have issued a series of orders prohibiting all gatherings of 10 or more individuals in addition to closing restaurants, bars and fitness centers across the state and city.  This order does affect the Columbia Club and our daily operations.  Currently this order is in place through March 31.  We continue to monitor this situation as information is released.
The Board of Directors and Management Team are working hard to adjust our practices to comply with these government requests, demands and suggested business practices.  We are looking at and reviewing ways to operate our Club.  We ask for your patience and understanding as we make decisions on how we can conduct business during this time. 
We understand that many necessary steps are being put in place for everyone's safety.  It remains our priority to do what is in the best interest of the overall health and safety of our Members, Guests and Staff.  All dining outlets, including The French Room, Crystal Terrace, Harrison Room and Harrison Grille have been closed.  This closure is indefinite until we receive word it is OK to open for a la carte dining again.  In addition to the dining outlets is the closure of the Health & Wellness Center, which includes use of both the Men's and Women's locker room areas.
Members will have access to the Clubhouse from 8:00am-8:00pm as a refuge, but no services will be rendered.  We are working on implementing a curb-side carry-out / "to-go" service.  Lunch will be offered from 11:30am-1:30pm and dinner from 5:00pm-8:00pm with the understanding that you cannot dine anywhere on the Club premises.  An email will be sent soon with the menu items available to order and when this service will be implemented.  At this time we ask our members to support us during this unprecedented event.  Now more than ever, we need your support so that we can maintain the sustainability of our staff and Club.
We will continue to keep you posted on developments and how they relate to the operations of our Club.
Sincerely,
Jim Rentschler
General Manager
jamesr@columbia-club.org | 317.761.7503
March 10, 2020
Columbia Club takes CoviD-19 very seriously. Additional measures have been implemented to ensure the health and safety of our members, guests and staff.
Our Commitment To You  
Alcohol-based hand sanitizers are located throughout the Clubhouse
Valet Stand | Front Desk | Concierge Desk | Restrooms | Dining Rooms
Outside of Elevators on Second Floor | Tenth Floor
Housekeeping Staff are wearing gloves to the clean the Clubhouse
Phones, door handles and elevator buttons are continuously being disinfected
Special attention is being given to disinfecting the remote control,  light switches, bedside lamp switches, alarm clock and phone. Lines are washed after every guest
Public restroom faucets, soap dispensers, paper towel dispensers,toilet flusher handles and other restroom surfaces are being disinfected throughout the day
Columbia Club asks our guest to please
Avoid close contact with people who are sick
Avoid touching your eyes, nose and mouth with unwashed hands
If you are not feeling well, please stay home
Cover your cough or sneeze with a tissue, then throw the tissue in the trash
Wash your hands often with soap and water for at least 20 seconds, especially after going to the bathroom, before eating and after blowing your nose, coughing or sneezing
February 27, 2020
2020 Golf League Dates
April 21
May 5
May 19
June 2
June 16
June 30
July 14
July 28
August 11
August 25
September 8
September 22
For more information contact Molly English -
menglish@columbia-club.org
February 20, 2020
Columbia Club of Indianapolis Launches Community Impact Study
The Columbia Club of Indianapolis has engaged a research project into the community involvement and positive impact its members have on the greater Indianapolis community.  The research, conducted by SMARI Research, sought to identify the communal efforts of its members; to identify areas of community involvement members regularly engage; to identify additional areas that would be of interest to Columbians for their volunteer time and effort; and to bring community needs to the attention of Columbians who could affect positive change.  
"This project has brought to light some of the needs most of us aren't aware of in our community, and highlighted the specific areas of others of which we are aware", said Matt Freel, Columbian Community Impact Alumni and past Membership Chairman.  "By bringing those issues into conversation, there has been great discussion about what it takes to tackle those issues to improve greater Indianapolis and its citizens."  
The Executive Summary of the study reveals that members are currently involved in a wide variety of community volunteer organizations, and they demonstrate very diverse interests in engaging the Columbia Club as an agent of community enrichment.  Columbia Club members report currently being involved in volunteer activities that promote the social welfare of Indianapolis, and provide necessary services to the community.  They focus on professional development in order to foster relevant volunteerism in the areas of the arts, education, social advocacy, and mentorship.  
"Our members are leaders in community activities ranging from hunger relief to successful empowerment outcomes, and just about everything in between", said Jim Ittenbach, Columbia Club President.  "Their activities over the years have affected education at all levels; healthcare assistance, children's welfare and safety issues, as well as the arts and preservation of precious local history. Part of our outreach is to encourage local involvement, and educate our members about the opportunities for service presented by the city's needs."
January 2, 2020
Meet Columbian Ellen Engleman Conners
Columbian Ellen Engleman Conners is a proud Hoosier with family ties to education and public service. Her great grandfather, James Ozro Engleman was the third president of Kent State University and his book "Moral Education in School and Home" published in 1918, is still used by homeschoolers. Her great great uncle, Henry C. Ulen was a successful international public projects engineer who created and built the Ulen Country Club.  Her great aunt, Lois E. Engleman was the librarian of Denison University from 1948-1964. Other family members have taught in high school and universities and her mother, Gayle Engleman, who worked in federal civil service for 47 years, is also Ellen's inspiration.
Columbian Engleman Conners was nominated by President George W. Bush and confirmed by the U. S. Senate for three positions:  as both Chairman and Member of the National Transportation Safety Board (NTSB) and Administrator of the Research and Special Programs Administration at the U.S. Department of Transportation. She has served as a member of the Senior Executive Service as the Deputy Bureau Chief of Enforcement for the Federal Communications Commission, Director of External Relations for the NASA Johnson Space Center (JSC) and Deputy Director of Public and Government Affairs for the U.S. Coast Guard.
Columbian Engleman Conners was also awarded the Presidential Meritorious Senior Executive Service award by President Trump, the Secretary of Transportation's 9-11 Medal and the U.S. Coast Guard Public Service Medal.  She received Aviation Week's Safety Laurel, the National Business Traveler's Founders Award and  the NASA Johnson Space Center Director's Commendation.
The Honorable Engleman Conners served in the United States Navy Reserves for nine years as a public affairs officer (PAO) for the Chief of Naval Information at the Pentagon.
In the private sector, Columbian Engleman Conners was President and CEO of Indiana-based Electricore, Inc. a research consortium for advanced technology R & D for hybrid electric drive and alternative energy; CEO of the Indiana Realtors Association, and Governmental Affairs Executive and Public Affairs Manager for GTE North, Inc. (now Verizon).
Columbian Engleman Conners is married to Columbian Michael F. Conners and loves to entertain and garden.   
Ellen is an active community volunteer and was the first woman to serve as Chairman of the Harrison Society.  She received the Columbia Club's Benjamin Harrison Public Service Award for her work as Chairman of the NTSB in 2003. She has earned a law degree (J.D.)  from Indiana University, a master of public administration from Harvard University (MPA) and her undergraduate degree (BA) in English and Communication Media from Indiana University. She is a member of the Indiana Bar and received accreditation (APR) from the Public Relations Society of America.
Ellen and Michael attend many Columbia Club events and love to use their Club. Please introduce yourselves to the Conners when you see them at the Club.
December 1, 2019
SUPPORT THE COLUMBIA CLUB FOUNDATION INC. THROUGH YOUR DAILY AMAZON PURCHASES
Step 1:     In your internet browser go to smile.amazon.com and log in using your Amazon credentials.
Step 2:     After signing in, you will be directed to the below page.
Step 3:    Under the heading "Or pick your own charitable organization" enter "Columbia Club Foundation Inc." then click "Search".
Step 4:     From the list of charity options, select "Columbia Club Foundation Inc." (located in Indianapolis, IN).
Step 5:     You will be redirected to the page below. Check the box next to "Yes" and then click "Start Shopping".
Step 6:     You will be redirected to Amazon's homepage that adds a disclaimer about how to add AmazonSmile to your toolbar, should you want to add a bookmark for it.
That's it! You are now signed up for AmazonSmile!
Just be sure to visit smile.amazon.com every time you normally visit Amazon to make sure your eligible purchases are having a portion of the price donated to The Columbia Club Foundation Inc.
If you have any questions please email columbiaclubfoundationinc@gmail.com.
November 1, 2019
Give the Gift of Membership -
What better way to share what matters most to you with the people who matter most to you than to invite your family to learn more about the Columbia Club membership experience?
With the support of your Board of Directors and Membership Committee, we are pleased to announce a limited time.
Legacy Membership Offer
Current Club members may extend the gift of Legacy Legacy members will pay NO initiation fee! (offering upwards of a $500 savings!)
Who qualifies for Legacy membership?
Parents | Grandparents | Children | Grandchildren | Sister or Brother of a current Columbia Club member
Contact the Membership Office to request a special Legacy Invitation Tami Cumpston (317.761.7528) or Molly English (317.761.7517) membership@columbia-club.org
Legacy members are subject to all other requirements of membership and must complete a membership application to be presented to the Screening Committee and Board of Directors for approval.
June 12, 2018
Please join us in congratulating Danny Nicholas on his recent promotion from Restaurant Manager to Director of Food & Beverage.  Since Danny's arrival last September, he has shown a dedication to the Club and his input and take on operations has seen success and stability.  He will be taking on a greater role in overall Food & Beverage operations including the kitchen with menu planning, member event set-up and execution in addition to updating and implementing training programs with accompanying policies and procedures.  Be sure to wish him well in his new role.
May 30, 2018
Members In The News - Dr. Toby Malichi, Hon. D. Bus.
Recently Columbian Malichi had the distinct honor of being published in 'The Hill,' Washington DCs premier policy and political news organization. He talks about trade in Indiana. The global response has been positively overwhelming!
Believe it or not, across Indiana, international trade is a big business for small- to medium-sized businesses (SMEs). 
Read the whole article
April 10, 2018
Members In The News - Ken Remenschneider, PLA, CLARB
Remenschneider Associates, Inc. (RAI)—a planning and landscape architecture firm—officially joined forces with Kimley-Horn on April 2.
Since 1989, RAI has provided design, planning, and landscape architecture services to private and public sector clients throughout the state of Indiana.
RAI is passionate about creating a clear and viable vision for each community in which they have the privilege to work. With this move, they have significantly expanded our ability to help Midwestern cities and towns achieve economic success within their downtowns.
Read the whole article
December 30, 2017
The Columbia Club Divine Dames, one of our long-standing Clubs within a Club, will be moving their monthly luncheon date to the 2nd Tuesday of the month (previously this group met the 2nd Thursday of the month).  We hope that by making this slight change to our meeting schedule, that we will have more ladies join us for this monthly "girls" luncheon get-away.  Parking should be more ample with our valet staff than what we have experienced with a higher number of events taking place later in the week.  All female Columbians are invited to join us!  Contact the Concierge at 317.761.7523 to reserve your spot.  The next gathering takes place on Tuesday, January 9th at 11:30am.
November 2017
The Columbia Club welcomes Restaurant Manager Danny Nicholas to our team.  Danny was first introduced to the private Club sector when he started working at the Riviera Club teaching swim lessons as a teenager.  His Club career continued during the summer months as a lifeguard and than as a camp counselor.  Danny's continued throughout the summer months when home from college to work at both Riviera and Meridian Hills as a server.  Although his degree was in Biology, his passion for serving others and being part of the hospitality world was contagious, so he was thrilled to be offered a position in 2013 as the Food & Beverage Manager at the Riviera Club, where he also stepped in as the Executive Chef for a period of time.  Danny's passion for exceeding expectations is notable and we hope you will take this time to visit the Club and welcome him in person. 
September 20, 2017
The Columbia Club Foundation Inc., is sponsoring a tax deductible raffle fundraiser.  Tickets are available for sale now through various staff members at the Columbia Club, The Columbia Club Foundation Inc. Trustees, The Columbia Club Board of Directors and other committee members.  Tickets are $100 and are for sale through Friday, November 10th.  The 3 winning tickets will be drawn at the Foundation Art Gala being held at the Columbia Club on Saturday, November 11th.  First prize will receive 20% of the proceeds raised from the raffle, second prize will receive 10% and third prize will receive 5%.  Raffle winners do not need to be present to win.
September 12, 2017
The French Room and Crystal Terrace rolled out a new lunch menu today.  Members are enjoying the daily specials, all the while knowing that if they have a favorite item which may not be listed, that they are able to inquire about our ability to make this for them.  During the evening dinner hour, several nightly specials are designed to provide a tremendous amount of value to your dining experience. 
Monday: All-You-Can-Eat Appetizers from a select appetizer menu for $10 | Cheeseburger and a Pint of Beer for $10
Tuesday: Chef's specialty pasta served with a salad and breadsticks for $12 | Burger and Beer deal for $10
Wednesday: Build your own Pizza with 3 toppings for $8.50 (additional toppings extra) | Burger and Beer deal for $10
Thursday: 1st Thursday offers Martinis & Margarita's for $5.00 | 2nd Tuesday is $3.00 Draft Beer Night | 3rd Thursday is Wine & Dine for $35.00 including a 3 course meal and 2 glasses of wine | 4th Thursday is Whiskey & Bourbon Specials
Friday: Beer and Burger deal for $10
See you soon in the French Room!
September 5, 2017
The 7th Annual Oktoberfest is just around the corner!  Make plans to join us as we celebrate on Friday, September 15 from 4:00 - 11:00pm.  Enjoy biergartens with beer provided by Bier Brewery, Taxman and Sun King.  None of this would be possible without our awesome sponsors.  We are excited to welcome back Polkaboy, who will be rocking Monument Circle beginning at 7:00pm.  Bring your friends and family and join us in this festive occasion!
July 17, 2017
In an effort to revive the travel club, a Club within a Club at the Columbia Club, Columbian, Becky Squires has worked hard, meeting with club staff to redesign this interest group.  Members who enjoy travel are invited to attend a complimentary ADVENTURE CLUB kick-off meeting on Wednesday, August 23 in the Stardust Foyer.  Two Columbians have been invited to share their recent travel experiences and discuss the do's and dont's of traveling to these countries, while sharing some great stories and pictures.  John Green has been traveling annually to Canada since 1969 to fish and I'm sure he's got some great "fish tales" to discuss.  Brent Tilson has recently returned from an excursion to Egypt and he will talk about some of his favorite moments and what he may have learned along the way.
When members were surveyed, we learned that several Columbians would be interested in traveling together.  For our inaugual Adventure Club get away, we have created a CHICAGO SHOPPING WEEKEND set for November 3 - 5.  Deadline for registration is August 20. 
For additional information, please click here for a detailed overview and pricing for this trip.
June 2, 2017
Columbians Leading the Way!  
Today's young Columbians want to combine business and professional skills with personal abilities to make the world a better place. The Harrison Society of the Columbia Club, working in collaboration with our Club's Board of Directors and our Membership Committee members Dick Hester and Mike Simmons, have crafted a Columbian Community Impact (CCI) program. The purpose of the CCI program is to develop individual skills that enable board-level engagements, expand professional networks and foster meaningful contributions to the communities where we live and work. The program will empower socially conscious Harrison Society Columbians to make a difference in local and regional communities through education, professional development and leadership opportunity.
Starting in September, a 9-month development program begins to increase awareness of social and civic challenges through direct community service; supported by opportunities to work with and engage in constructive dialogue with community leadership. The vision is to build a cadre of courageous Columbians who are actively engaged in creating a positive, sustainable impact on social and economic fairness by adopting leadership positions on various social and civic boards.
With the establishment of the CCI program, Harrison Society members will receive focused training revealing how they can use business and professional knowledge to engage in social entrepreneurship and community service. With help from Club sponsors and personal interaction with connected Columbians, our CCI graduates will become the hub for emboldened leaders that engage and make our community a better place. To meet this opportunity, the CCI program will draw upon the resources of fellow Columbians and our Club's connected community to offer programs, speakers, and hands-on learning experiences for our young Columbians who want to foster positive economic and social change through community service.
The program will engage participants in experiential learning that accentuates seven essential personal traits: (1) Relationship Building, (2) Impactful Leadership, (3) Aligning Core Values with Civic Interest, (4) Grant Writing, (5) Board & Director Service, (6) Mentorship, and (7) Leaving a Personal Legacy. Under these broad categories, specific topics and in-service learnings will provide opportunities for individuals to enhance their professional skills through real time interaction with local organizations.
These and other opportunities will allow our Harrison Society Columbians to shape their community work to reflect personal passions for community impact. Interested Columbians should contact Audrey Hughey, Membership Director at 317-761-1528, to learn more about this program.
Live Long & Prosper,
Jim Ittenbach
Board Vice President
April 7, 2017
The Columbia Club introduces a new app available to be downloaded for no charge through the Apple iTunes store or the Google Play store.  This convenient app is accessible on all smart devices including your cell phone and tablets.  Members will have access to their club at their fingertips from viewing and reserving for upcoming club events to calling valet to arrange for your car to be waiting for you after a meeting or dinner.  Other resources available include making payments on your statement, viewing the roster of fellow Columbians and updating your personal club profile.  We are looking forward to members taking advantage of new ways to enjoy their Club.
April 3, 2017
Come visit the Harrison Room and check out the new menu introduced today. 
Click here
for a sneak peek of the new selections.  The Harrison Room is open Monday - Saturday beginning at 5:00pm.  Contact your Concierge at 317.761.7523 or
reservations@columbia-club.org
to reserve your next dinner outing and be sure to invite some friends to experience these exciting culinary creations.  If you are joining us on a Wednesday evening, be sure to check out our selections of
 

half price wines by the bottle
to accompany your meal.
---
March 20, 2017
A brand new Happy Hour menu debuts in the Harrison Grille.  Every Monday - Saturday from 4:00pm-6:30pm join us for value added appetizers starting at just $7.00.  Be tempted with Maryland Crab Cakes, Angus Sliders, and The Trio platter and wash it all down with a $5.00 martini or $6.00 glass of wine.  Check out the complete menus on the
Dining page of the website
.
---
February 15, 2017
Please welcome our new Director of Health and Wellness, John Krzyston (MS, ACSM, CPT), a native born Hoosier with more than 25 years as an ambassador of health, wellness and sports in the private club industry.  John earned an undergraduate degree from Purdue University and a Master's degree from Indiana University in Kinesiology/Sport Fitness and has spent the past 14 years as part of the faculty at Ivy Tech Community College.   
---
January 17, 2017
The Columbia Club welcomes Molly English as our Membership Coordinator.  Molly will be assuming the role previously held by Sarah Henry who will be relocating back to her "hometown" of Chicago, IL, and finalizing her wedding plans.  We wish Sarah the best of luck on all her future endeavors and thank her for her previous two years of service to our Members.  We are excited to have Molly on board who recently graduated from the University of Southern Indiana with a Communications degree.  She played four years of collegiate golf and has worked in country clubs the past few years as outside services and golf shop attendant.  She is anxious to begin her role in the membership department, meet our Members and learn more about the "city club" life.
---
November 28, 2017
Tami Cumpston joins the Columbia Club staff as the new Communications Director.  This is a newly developed role within our management team and we are excited to have her on board.  She has an extensive background in the private club industry, having spent over 20 years in both private city and country club environments.  
---
October 26, 2016
Columbia Club House Rules were updated. To view the updated House Rules, login to the web site and select the
Governance
page.  
---
October 25, 2016
On October 23rd one of the Club's richest traditions continued as we celebrated the 124th Annual Beefsteak Dinner. The Beefsteak Dinner recognized three individuals and our 25 year and 50 year members. Congressman Todd Young was the keynote speaker and received the Benjamin Harrison Medallion for the Public Sector, Philip A. Terry received the Benjamin Harrison Medallion for the Private Sector and Bruce B. Melchert was recognized as the Columbian Of The Year. Next month's Columbian will feature a full write-up on the event along with photos.  
---
  October 21, 2016
The Columbia Club will host the 124th Annual Beefsteak Dinner this weekend.   
---
October 16, 2016
For the past few weeks the Club collected coats and children's gloves for the Salvation Army's 30th Annual Coats for Kids coat giveaway at the State Fair. The 2016 Coats for Kids Helped 2,500 area children stay warm. Since the beginning The Salvation Army with Tuchman Cleaners and WTHR have distributed more than 100,000 new and gently used coats.  
---
September 26, 2016
Farewell to the Cabaret 
We would like to inform our members that the Cabaret has decided to move to a larger venue in 2017.  
During their six year tenure here at the Columbia Club, the Cabaret and its audience has seen tremendous growth. Recent performances are near 100% capacity and shows have sold out six months in advance. As a result, the Cabaret is seeking a larger venue.  
The Columbia Club has a rich history of supporting the arts in Indiana, and we have enjoyed our partnership with the Cabaret. We have been happy to have been part of their resurgence.  
Please join me and the Board in wishing them continued success in the future.  
Sincerely,    
William Butler                             Jim Rentschler
President, Columbia Club           General Manager & COO  
---
September 15, 2016
The 6th Annual Monument Circle Oktoberfest presented by the Columbia Club will be held Friday, September 16th. Oktoberfest has quickly become a staple event here in Indianapolis over the past few years, as it offers Hoosiers a truly unique experience where eating, drinking and enjoying live entertainment on the Circle is encouraged for all. Best of all, this citywide celebration is free and open to the public.  
To accommodate all of the thousands of guests who partake in the celebration, the entire north half of Monument Circle is closed to pedestrian traffic and transforms into a lively and festive authentic Oktoberfest. Like any proper Oktoberfest, the event features an assortment of authentic German fare, entertainment, and plenty of beer to go around.  
Guests can expect a plethora of authentic German foods from the Club's Master Chef Simon Gosling, including sauerkraut, bratwurst, soft pretzels, Bavarian bean smoked pot and rubbed and smoked loin of pork sauerkraut sandwich, and more. Those who prefer American food are also in luck, as there will be plenty of other foods available as well including grilled hot dogs, cheeseburgers, and elephant ears. Of course, there will also be an extensive biergarten featuring local, domestic, and imported beers for your enjoyment. The biergarten even includes a variety of wines and a cigar bar this year.  
"Oktoberfest has become one of the premiere events in our city. The Columbia Club is proud to host such a spectacular evening for all of Indianapolis to enjoy, " says Jim Rentschler, General Manager of The Columbia Club. "We are also very excited to bring Indiana's beloved Polkaboy back for a free concert on Monument Circle from 7:00pm-11:00pm."  
The food court and biergarten open at 4:00pm, and Polkaboy will be rocking the Monument with live music starting at 7:00pm. Oktoberfest prides itself on being open to the public with no admission charge, encouraging all interested community members to partake in the festivities. The event will continue throughout the evening until 11:00pm.  
A portion of the proceeds from the event will benefit the Indiana War Memorial Foundation, which includes funding for the recent repairs and restoration work done to The Soldiers' and Sailors' Monument as well as the many other war memorials throughout the city.   
Oktoberfest would not be possible without the overwhelming support from local businesses. Please join us in thanking Platinum Sponsor, Sysco Foods, as well as sponsors J.P. Morgan Chase, Morgan Linen Services, Markey's Audio Visual, Noble Consulting Services Inc., Sun King, Halstead Architects and Caldwell VanRiper.    
---
---
---
Columbia Club
121 Monument Circle
Indianapolis, IN 46204
317.767.1361
COO / General Manager
Travis Dale
317.761.7528
tdale@columbia-club.org
 317.761.7528