I am a Columbian
The Columbia Club is launching a new campaign to illustrate why membership matters. In an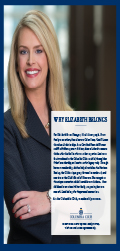 effort to build Club pride and drive membership, the new campaign is designed to showcase personal stories of why members have joined the Columbia Club.  
And who better to tell that story than our members?  
Each member has their own reason for joining – and we want to celebrate that diversity. Through monthly placements in the Indianapolis Business Journal print edition, along with corresponding digital elements on IBJ.com and other sites, selected members will share what encouraged them to join the Club.  We will also share these stories and biographies of some of our staff on our social media channels and in The Columbian so you can get to know them better.  If you have not already done so, I would encourage you to follow the Club on
Facebook
(
@TheColumbiaClub
) and on
Twitter
(
@ColumbiaClub_IN
).                                         
We are all proud of being Columbians. Now let's allow others in the community know
why membership matters.
For Elizabeth Evans Flanagan, it's all about people. From family to coworkers, from clients to Columbians, "Lizzie" knows the value of relationships. As a Certified Financial Planner and Wealth Management Advisor, she works hard to ensure the best for the families that trust her expertise. Lizzie was first introduced to the Columbia Club as a child, through her father's membership, and continues that legacy today. Through her own membership, she has helped revitalize the Harrison Society, the Club's unique group for members under 40, and now sits on the Club's Board of Directors. She recognizes the unique connections she's been able to make here – from childhood memories with her family, to growing her own network. Lizzie belongs for the personal connections.