Upgrades in Motion
Hospitality Guest Rooms
Overnight guest room accommodations at the Columbia Club provide unique room layouts and decor. To compete in the hospitality market, the Club has now permanently budgeted guest room renovations and updates to happen each year going forward by allotting one percent of service charges to guest room renovations. Two overnight rooms will be renovated each quarter with upgrades maintaining the boutique charm our guests have come to expect. Each bathroom will be enhanced with new tiles, fixtures, and countertops. The overall decor of the room will be upgraded featuring new carpeting, furnishings, and contemporary designs.

Club Wi-Fi Expansion
Recent facility investments provide fiber optic lines throughout the clubhouse with one gigabyte of speed. The wireless infrastructure includes 90 wireless access points throughout the Club. Five password protected access points are dedicated to our Columbian community network. Columbians have access to complementary high-speed Wi-Fi, as do overnight guests, private banquets, and events. Features include video conferencing capabilities with digital streaming for corporate or social gatherings.
Join Us in Our Vision to Get to the Roof!
Conversations over drinks. Time with fellow members.
Enticing culinary creations. Cocktails outside as the city passes by below. A view from the top.

The Club is developing plans for a Rooftop Experience overlooking Monument Circle. The Rooftop Venue will feature a one-of-a-kind bird's eye view of the Soldiers & Sailors Monument and downtown Indianapolis. This classic indoor/outdoor venue will feature casual lounge furnishings, a cigar laze, a gas fireplace, and small plate dining service.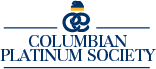 Click Here to Visit the Columbian Platinum Society Website
ColumbianPlatinumSociety.com

The Club has embarked on strategic facility improvements to enhance our member experience. To date, these club improvements have been funded by Club members who have paid it forward by joining the Columbian Platinum Society, in keeping with the spirit of the original founders of the Columbia Club.

Recently Completed Projects
Heritage Wine Cellar/Tasting Room- Second Floor Mezzanine
Platinum lounge- Fifth Floor
Co-Working Space-Fifth Floor
Expanded locker Rooms- lower Level

To learn more about these projects contact our General Manager, Travis Dale. tdale@columbia-club.org